The Steps to Making a Simplebooklet Microsite
The Steps to Making a Simplebooklet Microsite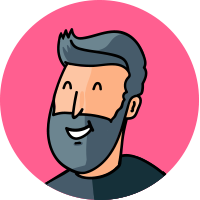 By Scott.Brownlee
updated about 1 year ago
When making a Simplebooklet microsite for your marketing collateral, you are focused on four things:
Getting your marketing content converted and displayed digitally as you have it in print (Dashboard).
Enhancing the content on your pages to take advantage of the digital medium (Edit).
Customizing the way your new digital marketing collateral is experienced when viewed by a customer (Design).
Distributing that digital collateral across as many online channels as you can to get the most reach and engagement with customers (Publish).
At the end of this process, you should have a great looking microsite that presents your marketing collateral like a true professional.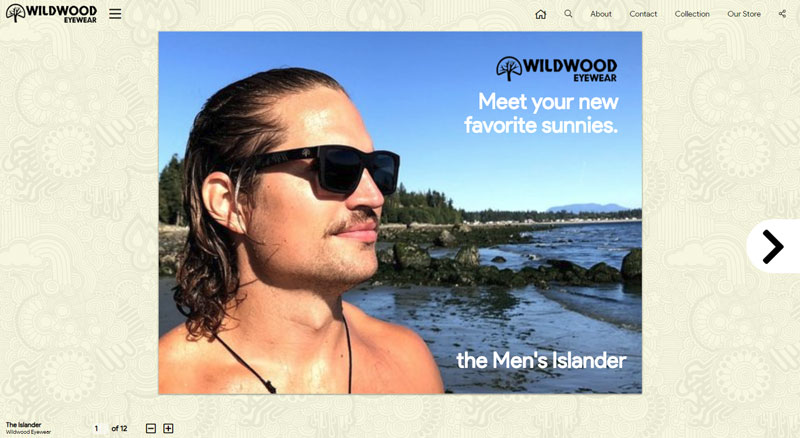 The Steps
There are four different steps you'll take in making your simplebooklet microsite.



---
DASHBOARD
This is where you start your booklet or access your existing booklets. You'll also have access to your account details, your collections, and your custom domains.
Starting a new simplebooklet microsite takes place in the large orange box at the top of the page. You have the option of uploading an existing file (PDF, document, or presentation) and having our conversion engine turn it into an html5 page, or, starting a new simplebooklet microsite fresh with some blank pages.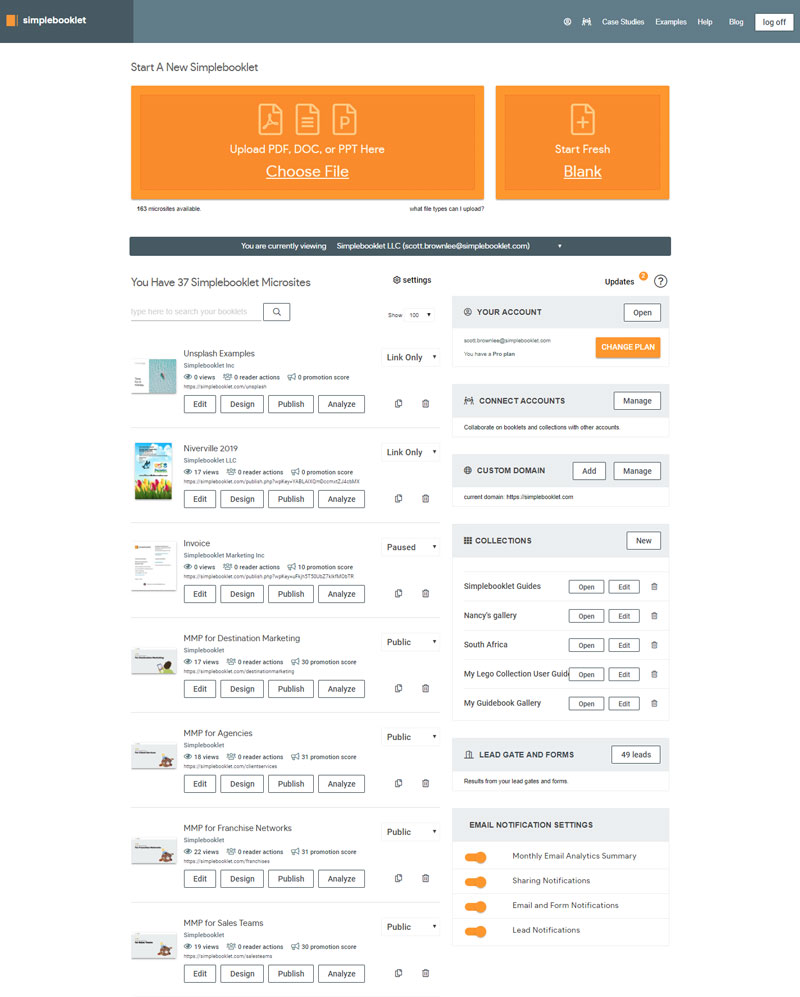 You'll step through 2 or 3 screens where you get to name and describe your microsite and give it an easy to remember web address. Once the microsite is created, you'll have the option to start editing your pages.
When you are authoring your booklet, you have two tabs, EDIT and DESIGN. They let you edit content on your page (EDIT) or configure how your pages are presented (DESIGN). Once you're happy with your simplebooklet microsite, you can start promoting it with PUBLISH.
---
EDIT
This is where you can enhance your pages with additional content, or edit the content that already exists on the pages.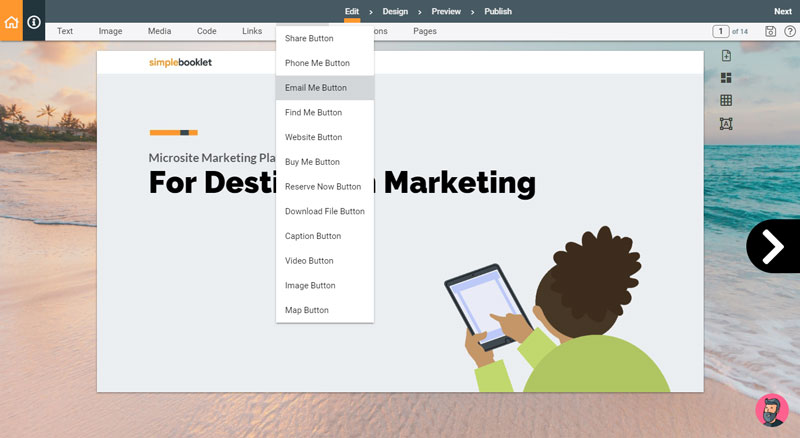 You can:
Add new text blocks or edit existing text on your page.
Add new images or preformatted image blocks or edit the image already on your page.
Add media such as video and audio to your page.
Add clipart and shapes to your page.
Add code (html and css) to your page.
Add links and link hotspots to anywhere on your page.
Add call to action buttons to your page.
Add integrations from mailchimp, shopify, etsy and unsplash.
You can also:
Make new pages, reorder pages, delete pages, and duplicate pages.
Upload more PDF documents to add new pages.
Change the page dimensions and page color.
Editing the content on your page.
---




Editing Content
Every piece of content is a separate element on your page. This is what allows you to have complete control over the layout of content on your page. You can drag and drop any content element to anywhere you want. Each content element is broken into two separate parts: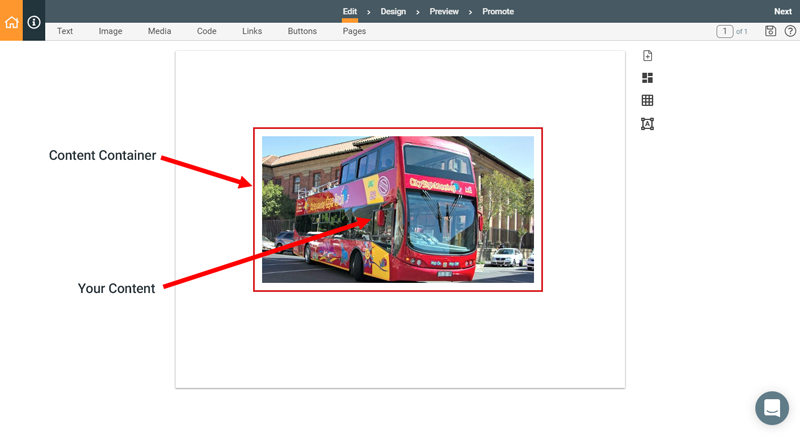 Content Container - this is a special container that holds your content (it can hold anything, from text to images to code). You can style and edit how the container of the element works without affecting the content inside it.
Your Content - this is the stuff inside the container. It could be a photo you uploaded or text you added to a page or even a video.
You have tools to edit and modify each of these things separately.
Edit a Content Container
single tap on the element This will select the element container. You will see yellow dots appear at each corner of the element, and the element editor toolbars open on the left and right of your screen.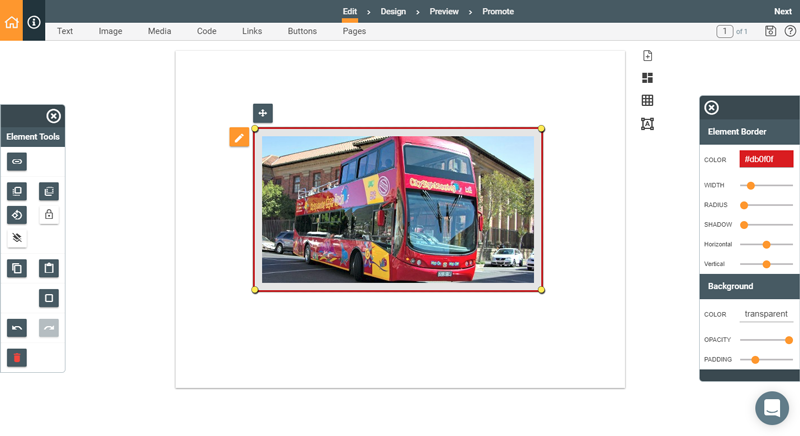 When you have selected an element, you can drag it around, resize it, and rotate it. You cannot edit the content, you are only controlling the containing box of the content. When you single tap the content container, the editor toolbar and the style toolbar are revealed.
Element Toolbar

The editor toolbar lets you apply functionality to the container of the content (not the content itself). For example, you can make the container a hyperlink, or move it up and down relative to other content on your page. You can also copy the content container and paste it on another page.
Style Toolbar
You can also style the content container. You can style the border and background, add drop shadows, padding between the container and the content, and even add a drop shadow.
Edit Your Content
To edit your content inside the content container, double click on the element. This will reveal the editor tools for your specific content. Your text will insert the text cursor, your image will reveal your image editor tools, and your call to action buttons will reveal the tools you used to first add it.
Example
In this example, this image has been double clicked. It reveals the image editor toolbar with features that will manipulate your image.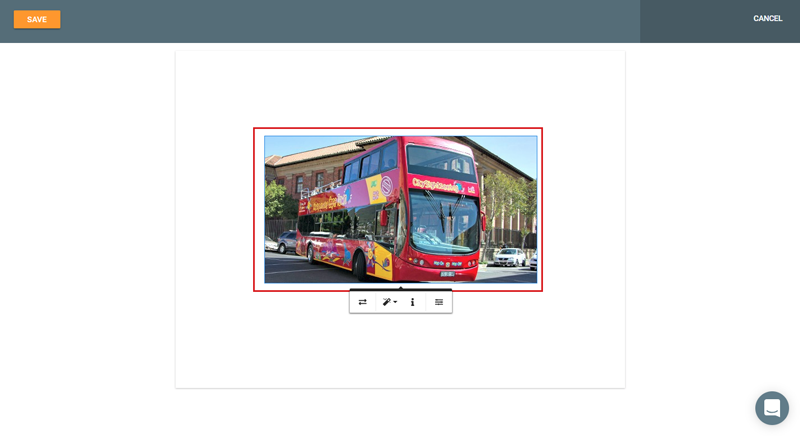 When you do this, you'll be directly editing your original content.
Once you've created your pages, use the tabs along the top of the page to switch to your next step (or tap the next button).

You can also go back to the dashboard from the orange home button. Your Simplebooklet microsite will appear in the list of Simplebooklets.
---




DESIGN
Think of DESIGN as the decoration around your content. You will not be changing the content inside your pages, but you have a lot of design control over what appears around the pages. It's the stage props enhancing your marketing collateral so it's presented as professionally as possible.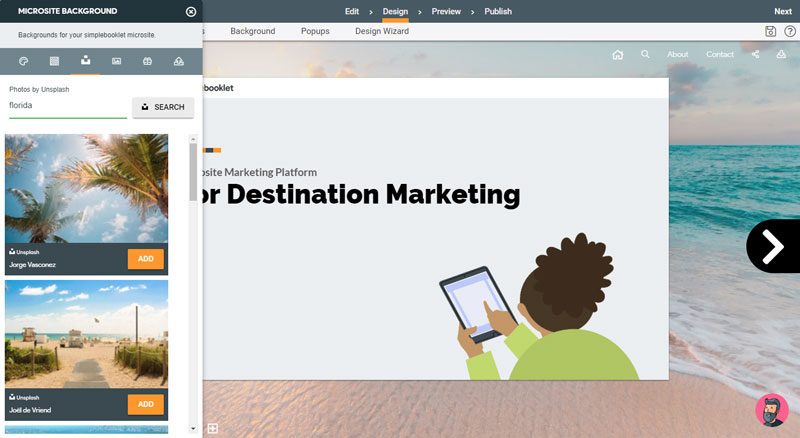 The design tab allows you to configure the presentation of your simplebooklet pages on it's dedicated microsite. This is where you really get to stand out from the crowd and make sure your content is supported with a professional presentation.
You can:
Style the way your pages are displayed and transition.
Update the layout of supporting content around your pages (menus, navigation, etc).
Add supporting content that surrounds your pages (about, contact info, sharing options, download option).
Change your microsite background.
Add a lead gate or password to control access.
Design is all about the presentation of the booklet, not the booklet itself.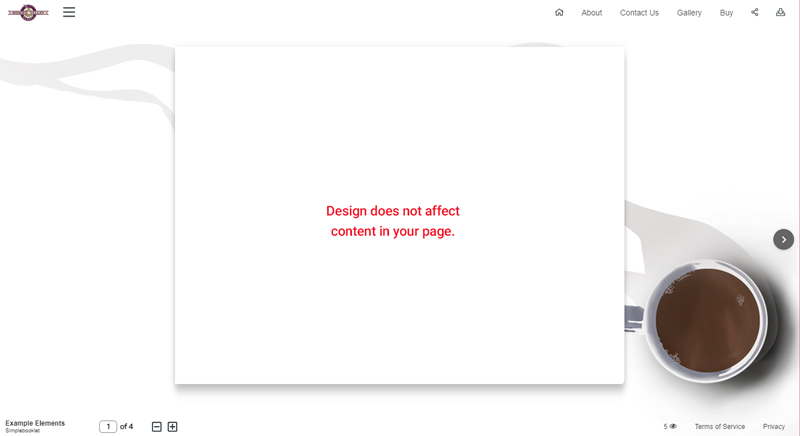 What you are trying to do here is make the presentation of your booklet look and feel like a professional quality website. That's why you can select from multiple layouts. These layouts will change where all the different supporting buttons and icons appear on your microsite.
Once your microsite looks like you want, it's time to start promoting it.
---
PUBLISH
Your promote tab gives you the tools to distribute your Simplebooklet microsite across multiple digital channels all from a unique web URL. Depending on the channel you plan to promote, Simplebooklet will share engaging previews of your booklet to encourage a customer to click and view your Simplebooklet.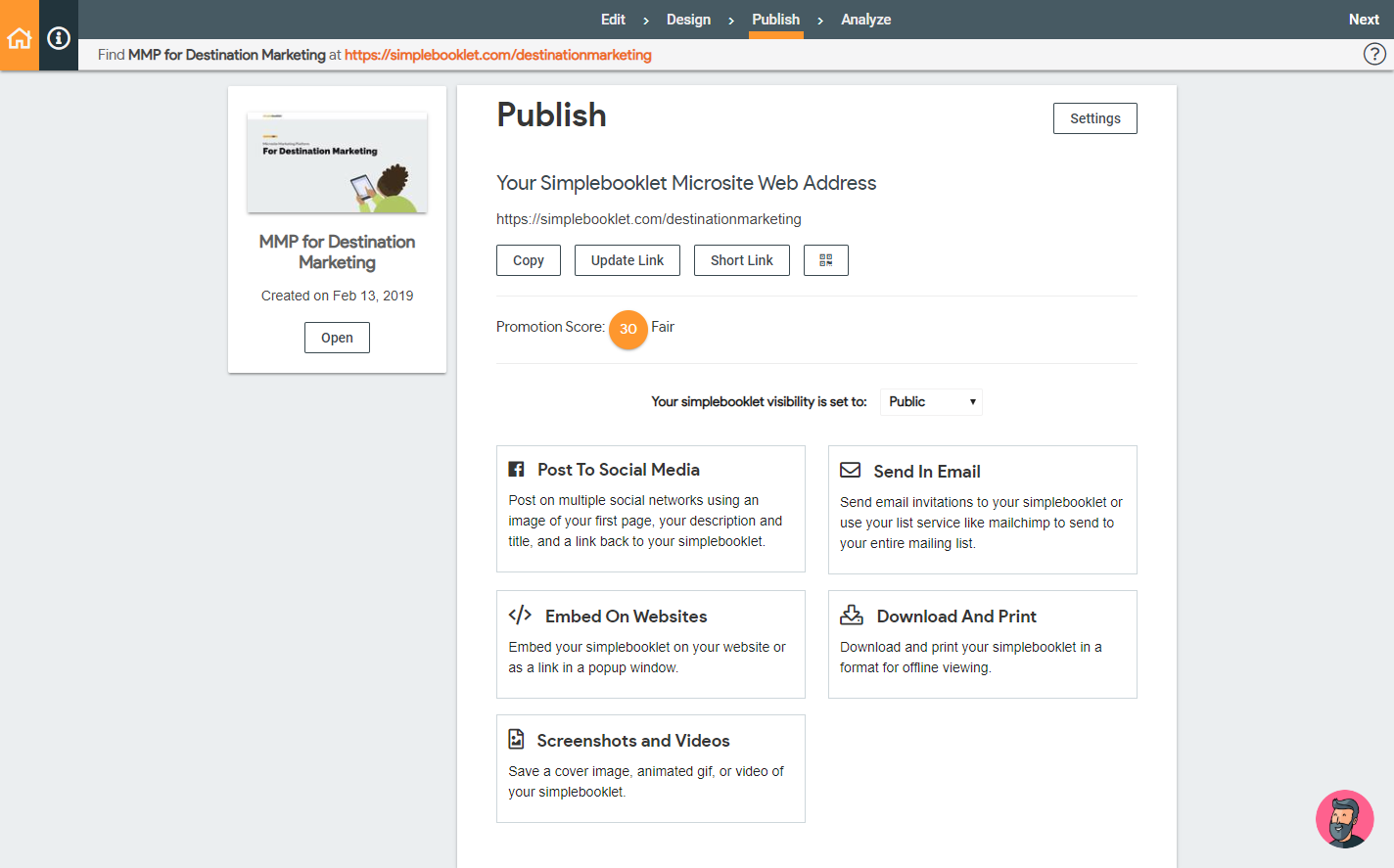 You will refer back to the publish tab many times over the lifespan of your Simplebooklet microsite.
You can:
View your custom web address.
Update your custom web address to something different.
Hide your microsite from search engines.
Use our social network integrations to easily post to your favorite feed.
Send your pages as an animated html email or use our integration to add it to your favorite mailing list provider.
Embed your Simplebooklet on your website using the iframe embed code or one of our web service integrations for services like wix or wordpress.
Download your Simplebooklet as a PDF, mobi, or epub file for offline reading.
Download a cover image, animated gifs of the first three pages, or a video of the first 20 pages of your Simplebooklet to use anywhere.
The Publish tab will also give you access to the analytics reports and optimization recommendations to get even more engagement with your Simplebooklet microsite.
Did this answer your question?