Dashboard Interface
Dashboard Interface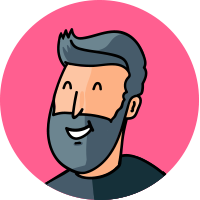 By Scott.Brownlee
updated 12 months ago
Your dashboard is made up of 3 main sections. Creating a Simplebooklet (top section), your existing Simplebooklets (bottom middle section), and managing your account, collections, and custom domains (bottom right section).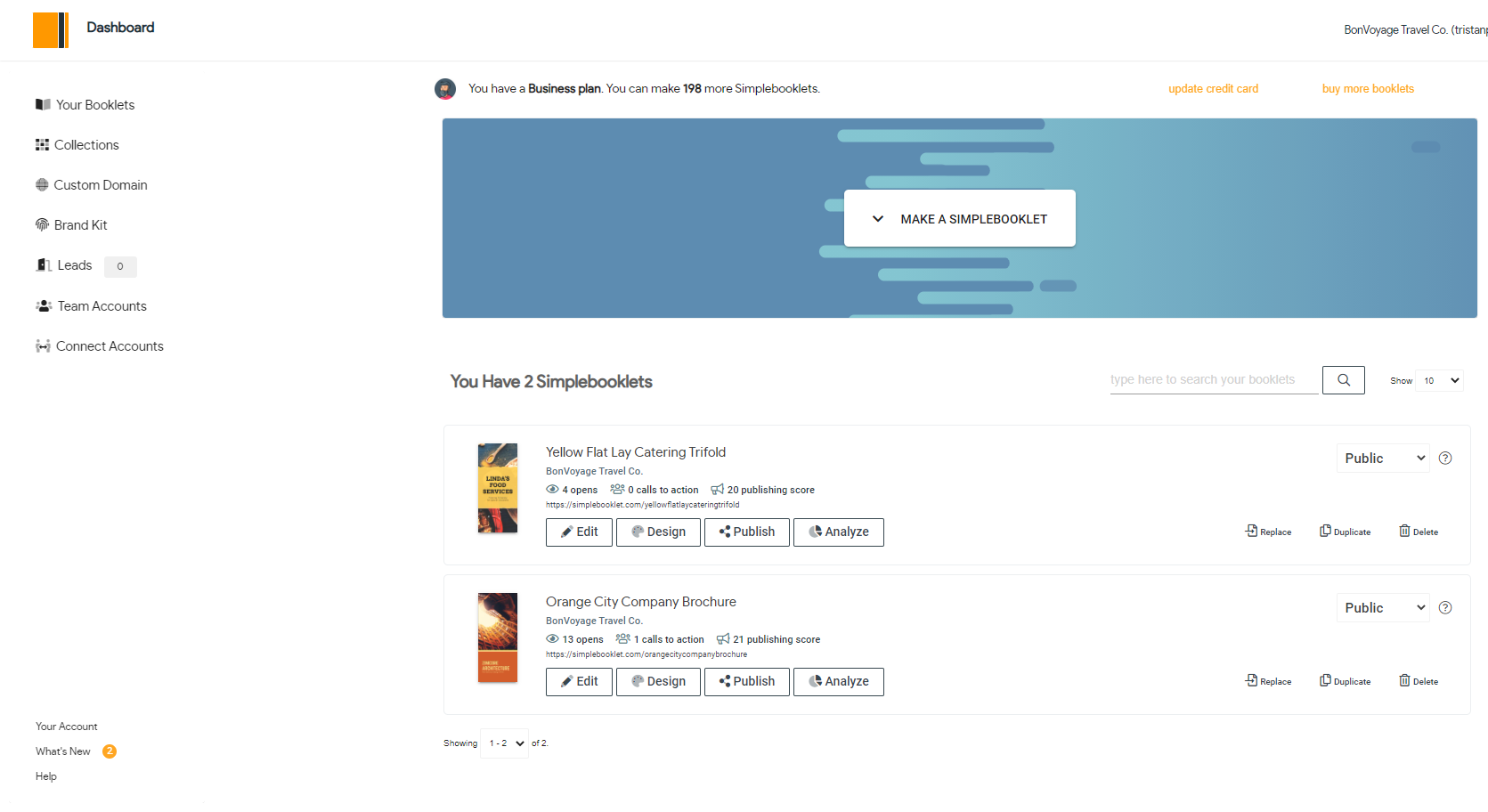 Start A New Simplebooklet Microsite
There are two ways to start a new Simplebooklet. You can use a file you already have or you can start fresh with a blank page.
Drag and drop or choose file to upload a file from your computer to Simplebooklet. We can convert your PDF, doc, docx, ppt, pptx, xls, xlsx, numbers, pages, or keynote file into a Simplebooklet.
Or tap the Make a Simplebooklet button and start a new Simplebooklet from a page size of your choosing.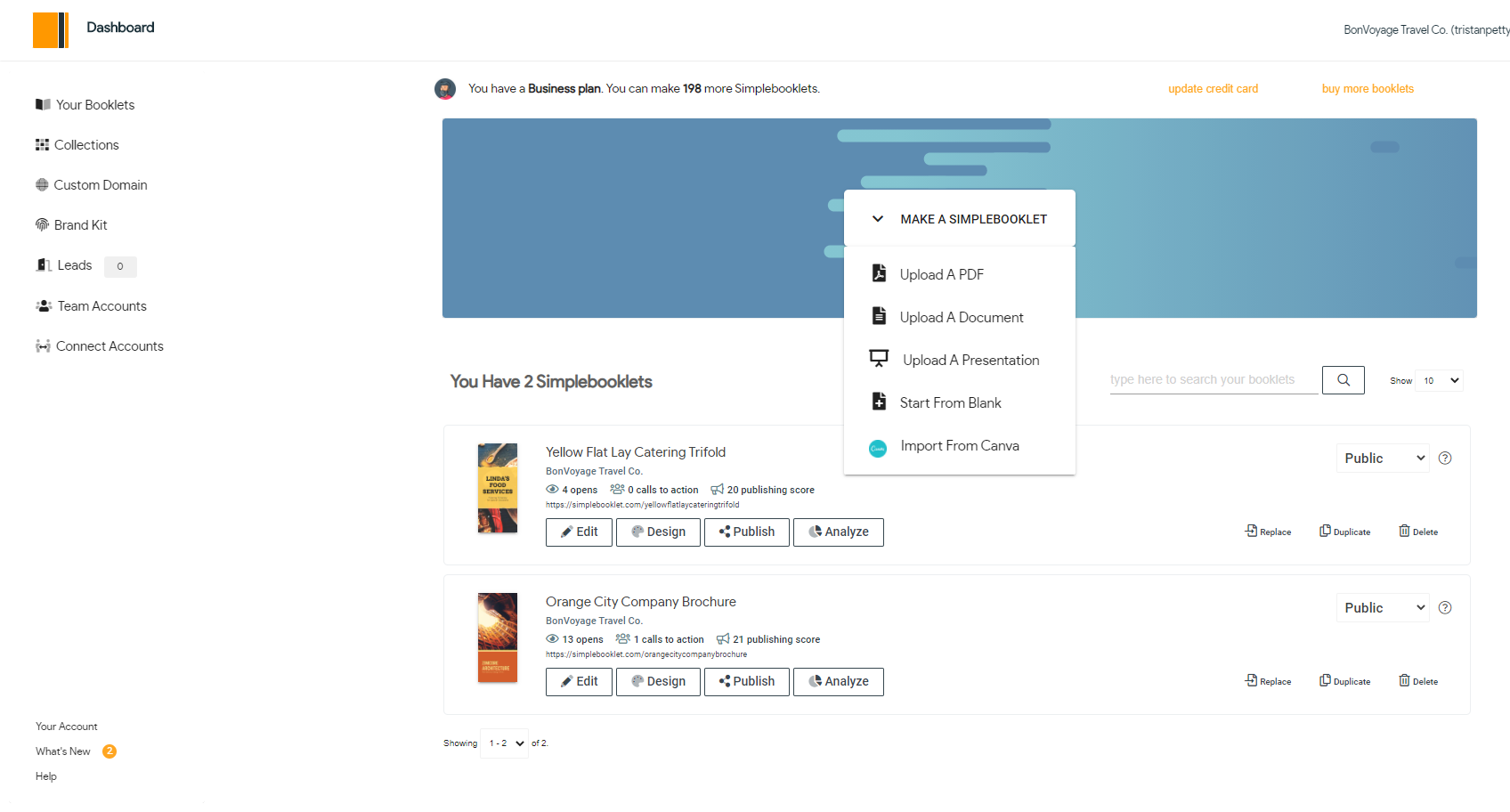 You can only upload one file at a time.
You can combine multiple PDFs into the same Simplebooklet from the content tab in the Editor tools.
---
Your Account
You can manage your account and subscription status from here. Change your email address, password, and payment plans. You'll also see your current account status.
Your Simplebooklet Microsites
Your Simplebooklets are displayed in the bottom of your dashboard. This list is ordered with the latest booklet created at the top of the list.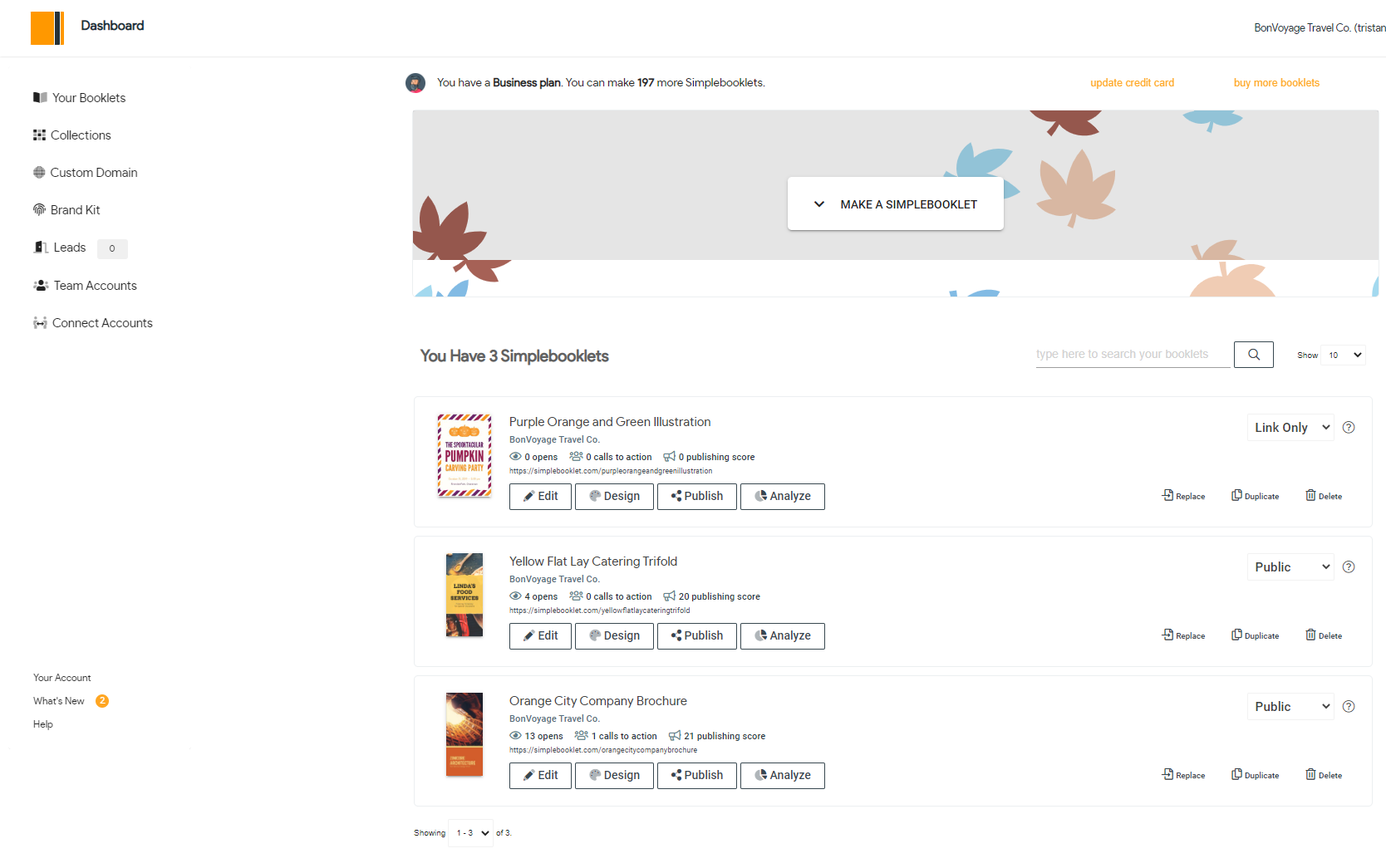 You can search and auto-sort your Simplebooklet list using the search tool.
---
Your Simplebooklets
You can access the various tools to promote and edit your existing booklets from Your Simplebooklets.They are found under the title of your Simplebooklet.
On existing booklets, our focus is on helping you promote your booklet across as many digital channels as possible.
You will also see data highlighting how many unique views your booklet has had, how many leads from emails or lead gates have been submitted, and what your current promotion score is.
---
Your Collections
You can create and manage your collections from this tool.
Collections are a great way to provide a single URL to display multiple booklets on one page to a customer.
Collections can also be embedded in your booklet pages and displayed in your booklet business card.
If you have a PRO plan or higher, you can create multiple collections.
You can organize the order of your booklets and set a custom domain for each of your collections. Collections are fully customizable to present your brand and contact information.
Your Custom Domains
You can apply an unlimited number of custom domains to your booklets and collections. We've got a whole help section to take you through the steps to setting up your domain.
Did this answer your question?